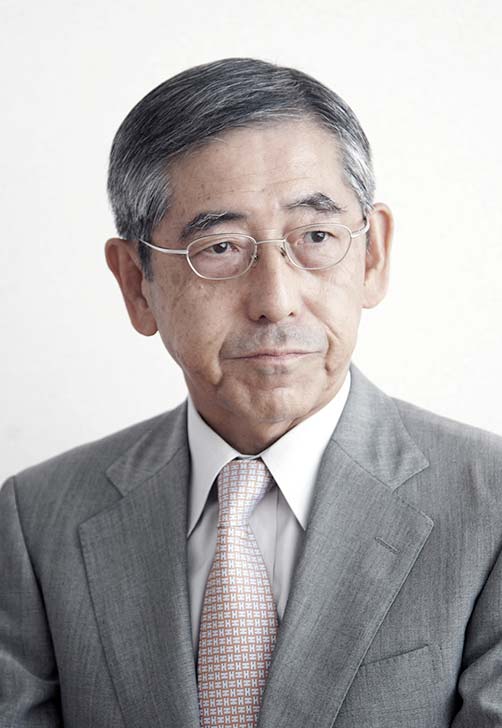 Masataka Takeda
Initiator of the 0.01 Project
General Manager,
Manufacturing Division,
Healthcare Business Unit
Masataka Takeda
| | |
| --- | --- |
| Q: | As the initiator of the 0.01, why did you want to develop this product? |
| A: | In October 2004, while I was on assignment in Malaysia, we began shipping the new Sagami Original 0.02 to Japan. That's when I gave the order to take it to the next level by developing a product in the 0.01mm range. I thought it was important to create a new, specific target once we'd achieved 0.02mm. |
| Q: | How were you involved in the 0.01? |
| A: | Primarily in development of manufacturing technology for the 0.01, and in manufacturing plans. |
| Q: | What do you mean by manufacturing technology development? |
| A: | For us, it meant pursuing technology to make an even thinner product without sacrificing quality, across every manufacturing step from raw material to packaging. |
| | |
| --- | --- |
| Q: | What did you focus on in particular during manufacture? |
| A: | In the process of making the product progressively thinner since 1999, from 35, to 28, to 24, to 22, to 18 microns, we focused on maintaining quality sufficient to ensure a medical device level of safety (leakage, bursting, etc.). |
| Q: | How are you feeling now that the product is actually for sale? |
| A: | It's like rushing ahead into total darkness. Following is easy, but leading has its risks and frankly, can be scary. At the same time, the 0.01 is a product with enormous potential, one that we will continue to refine as we pay close attention to feedback from the market and listen carefully |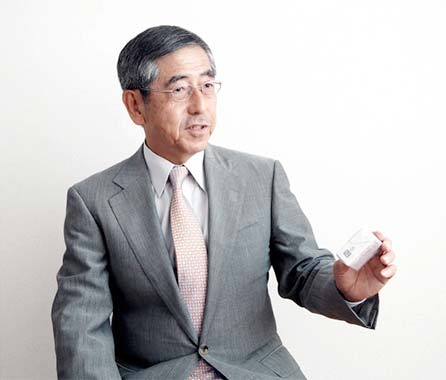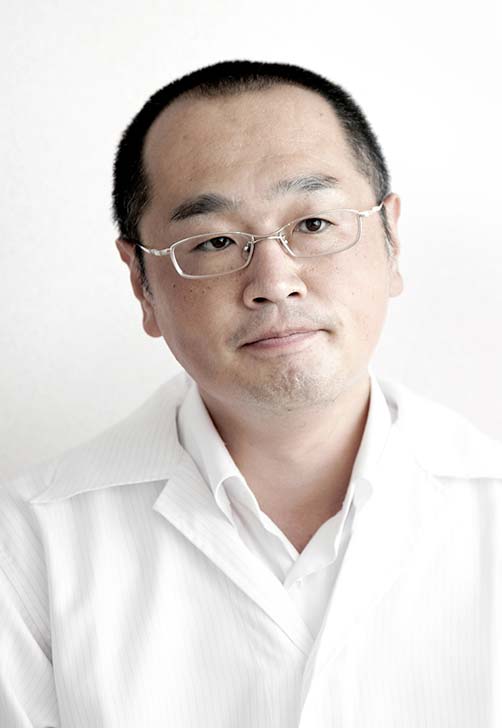 Chiaki Yamanaka
0.01 Development Manager
Senior Researcher,
Integrated Development Department,
Healthcare Manufacturing Division
Chiaki Yamanaka
| | |
| --- | --- |
| Q: | What is your usual job? |
| A: | I spend the whole day thinking about how to make condoms thinner. |
| Q: | How were you involved in the 0.01? |
| A: | As a member of the 0.01 development project team at the Malaysia plant, I was responsible for the basic testing to achieve the 0.01, including planning large-scale production trials at the actual plant, analyzing data and establishing production requirements. |
| Q: | You were in Malaysia during the development of the 0.01. Was there anything in particular that you struggled with? |
| A: | No matter how advanced your machinery or management systems are, in the end they're run by people, so we focused on developing our human resources. In the past, we've worked to improve the skill level of all our workers when introducing a new Sagami Original product. In the case of the 0.01, though, simply treating that training as an extension of what we did in the past wasn't effective, and we were forced to review the work from scratch. Because production of the 0.01 requires a high degree of precision and careful work, we re-educated everyone involved in production starting with the basics, regardless of experience or position. |
| | |
| --- | --- |
| Q: | What did you focus on in particular in producing the 0.01? |
| A: | Managing our glass molds. The thin film used in condoms is produced on glass molds, and the quality of those molds determines the quality of the condom. We outsource glass mold production to an outside firm, and the manufacture of high-quality molds, which must be free of even the smallest blemish, cannot be done without the close cooperation of our outsourcing partner. We engaged in numerous discussions, shared a high goal of creating a "world's first" condom, and took time to refine our technical capabilities. If they had responded to our strict requirements by saying "It's too much trouble; we give up," the 0.01 would never have been achieved. I guess you could say that we got our outsourcing partner to power up their own capabilities, and created the 0.01 together. |
| Q: | Any last words on the 0.01? |
| A: | In interviews, the focus is usually on the development divisions, but I think the 0.01 is the product of a united effort by all of Sagami's employees. There really is no final goal in development work, so we will continue to pursue even thinner products as a pioneer in the condom industry. |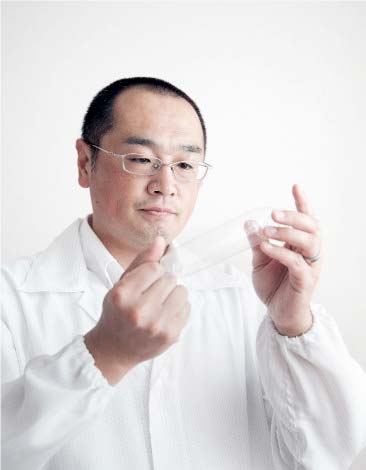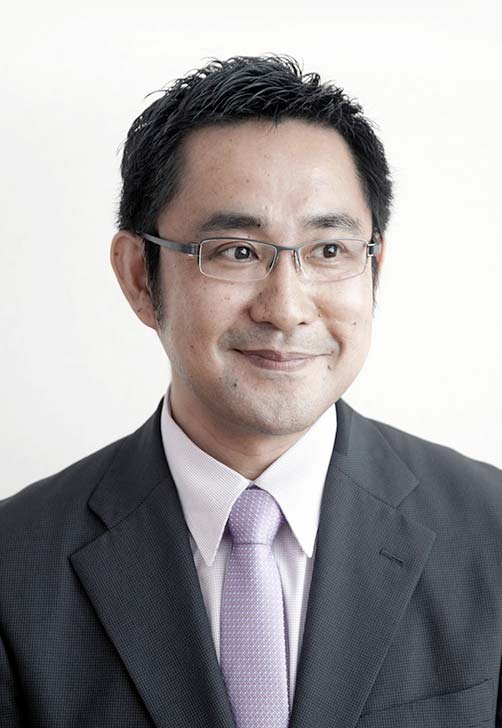 Yoshiaki Kawaguchi
Product Data Manager
Head of the Healthcare
Manufacturing Division
Yoshiaki Kawaguchi
| | |
| --- | --- |
| Q: | How were you involved in the 0.01? |
| A: | When I was on assignment in Malaysia, we conducted plant-wide test production of the 0.01 and identified areas for improvement prior to actual production. After I returned to Japan, I held numerous discussions with those involved in actual production, worked out the details of the product specification, and prepared the product data. |
| Q: | How are you feeling about the launch of the 0.01? |
| A: | Sagami Original's overriding mission is to be the world's finest condom. From the start, our goal for Sagami Original was not to make the 0.03 or the 0.02. That said, there's something deeply moving about the fact that we've finally come this far. It's renewed my belief that our decision to make a completely new condom out of a stronger, safer material was the right one. For example, if we had chosen to simply switch to a new material to create a product in response to those with latex allergy, we probably would have come up with something completely different from the current Sagami Original. It's possible it wouldn't even be around as a product today. Since its launch in 1998, Sagami Original has continued to evolve. The 0.01 is the culmination of all of those efforts. |
| | |
| --- | --- |
| Q: | What are your thoughts about the future of the 0.01? |
| A: | The 0.01 has finally gone on sale, but competition is what drives us, and we can't maintain our position at the top of the market if we rest on our laurels. Everyone in this business is fighting to survive. We intend to continue taking on new challenges. I'd add that we don't want to stop with the domestic market. We'd really like people everywhere to use this product. Our market may start with Japan, but I hope people throughout Asia and the West will use the product too. |
| Q: | Any last words on the 0.01? |
| A: | The product will continue to evolve. |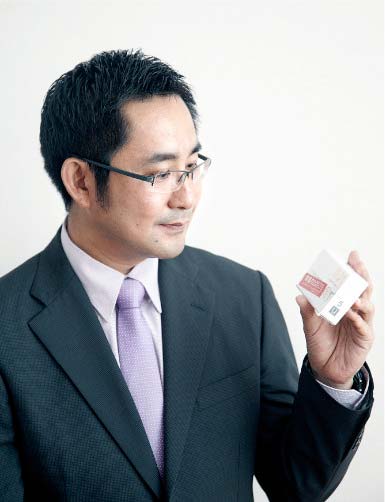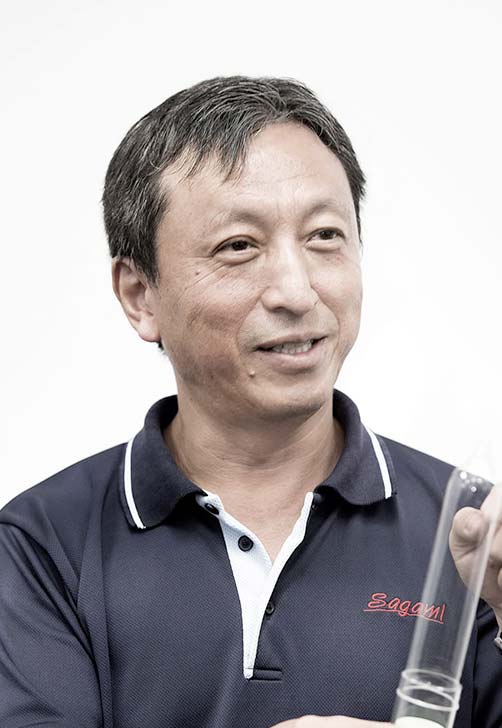 Akira Maruyama
0.01 Malaysia Development Manager
Sagami Manufacturers Sdn. Bhd.
R&D Manager
Akira Maruyama
| | |
| --- | --- |
| Q: | How were you involved in the 0.01? |
| A: | Since 1997, I've been working on polyurethane condom development in Malaysia. First I was involved in development of a 35 micron condom, then shifted to 28 and then 24 microns, and finally I got involved in developing the 0.01. |
| Q: | Tell us how you felt when you first heard Sagami would be developing the 0.01. |
| A: | We first started testing development of a 0.01mm condom back round 2004. At the time we were still shifting from 35 microns to 28 microns, so the 0.01 seemed like a total pipe dream. I remember my somewhat over-the-top thought at the time being "If we can productize this, it will revolutionize condoms!" |
| Q: | What challenges did you face when developing the 0.01? |
| A: | Once you get to the 18 micron level of thinness, a number of issues come up. To resolve those issues at the source, we had to repeat really painstaking processes over and over for several years. |
| | |
| --- | --- |
| Q: | What did you focus on in particular during manufacture? |
| A: | At 0.01mm, we naturally focused on preserving softness and maintaining strength. As the product gets thinner it also becomes softer, but you also lose some of the sense of security about strength during use. To ensure customers could use the product with confidence, we referenced ISO standards to create a condom with an emphasis on quality. |
| Q: | How are you feeling now that the product is actually for sale? |
| A: | I'm very honored to see a long-held dream come true. I'm also very happy that we're now able to provide consumers with the 0.01 condom. We'll continue to refine our technology and develop even better condoms. |
| Q: | Any last words on the 0.01? |
| A: | This condom emphasizes a good fit, softness and warmth, all while maintaining strength. I think we've ended up with the condom consumers have been asking for. |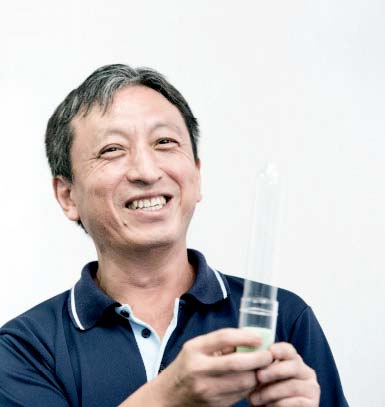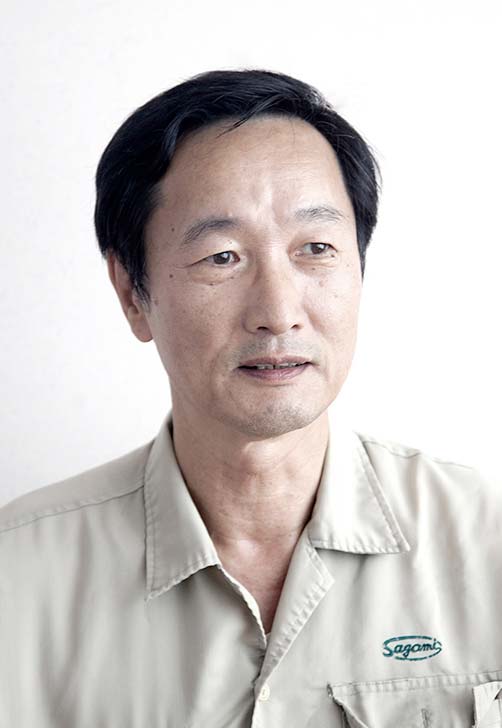 Shinichi Saito
Thin Film Technology Manager
Section Manager,
Integrated Development Department,
Healthcare Manufacturing Division
Shinichi Saito
| | |
| --- | --- |
| Q: | How were you involved in the 0.01? |
| A: | I was not directly involved in the 0.01, but for many years I have been involved in experiments to create thinner films. During that process, I realized that the detergents used to clean the glass molds were important, and selecting those detergents was something I struggled with. I also selected the cleaning agent used to clean the glass molds for the 0.01. Now people call me the "detergent master" (laughs). |
| Q: | Why is the detergent such an important point? |
| A: | It's important because, unless the molds are adequately cleaned, the following two problems arise. First, any dirt on the mold will adhere to the product, making it more difficult to remove from the mold. Second, it can be a cause of product defects. Any dirt left behind on the surface of the mold means creating the urethane film on top of that dirt, which leads to defects. The thinner the product, the more likely this is to affect it. This is why making sure the glass molds are completely clean is so critical in terms of quality for a product as thin as the 0.01. |
| Q: | Did you do all of the work in selecting the detergents by yourself? |
| A: | Yes. I gathered up many different types of detergents, holed up in the plant, and tested them all. |
| | |
| --- | --- |
| Q: | What was your biggest struggle in selecting a detergent? |
| A: | The biggest struggle was identifying whether the detergent would have an effect on the product during actual production. It was tricky, because sometimes a defect wouldn't turn up until a week later. |
| Q: | Is there any one episode that stands out for you? |
| A: | I remember I once ruined 120 glass molds I'd used in testing. The effect of the detergent left behind a coating on the surface of the molds. Reluctantly, I had to throw them all away. |
| Q: | Any last words on the 0.01? |
| A: | This will be the ultimate condom, so my expectations are high. |